Tanglewood Farm is located less than and hour north of Atlanta near the town of Canton, Georgia. The two key attractions of this destination are the animals and the atmosphere. The proximity to Atlanta also makes this an easy afternoon trek for many fun seeking families. Admission is $10 to enter the park (as of May 2012) and if you love cute huggable farm animals, it's a fair price.

Just inside the entrance of Tanglewood Farms is a nice little picnic area with shade trees, a fort with a tower, and a mechanical bull, all kid-size. Pony rides are also available in this area. It looks like an excellent place to have a birthday party. This is also the location of the first of a series of "green gates" that guide you through your miniature animal adventure maze.
The first miniature animals you encounter are the Nigerian Dwarf goats. The
adults can be viewed, and the babies can be petted and held. From there, just follow the green gates. There are miniature Babydoll sheep, turkeys, calves, donkeys, bison, guineas,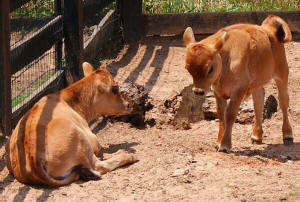 chickens, alpaca, lambs, rams, horses, and more. If you fall in love with an animal and want to take it home, just ask, it may be for sale. Their website has a whole section on which animals are available, but you'd better bring your checkbook. Miniature animals are usually pretty valuable.

The buildings emulate a miniature version of an old wild west frontier town.
Kids like it, and it's a perfect disguise for a bunch of old farm buildings and animal habitats. The facility really very clean considering the number of animals they have. We noticed no significant odor problems during our visit.