More Than Just a Hole in the Ground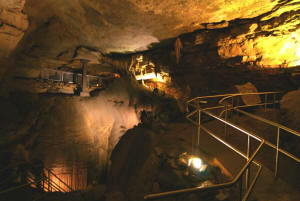 Mammoth Cave, the longest cave in the world.
Mammoth Cave National Park is located between Bowling Green and Louisville, Kentucky. It's a beautifully wooded and rugged part of the country. The park's limestone foundation is riddled with hundreds of miles caves. In fact, Mammoth Cave is the longest cave system in the world. Much of the cave is without mineral formations, but the sections of the cave with formations are quite amazing. At nearly 400 explored miles, the sheer size of the cave is hard to fathom, and makes the trip worthwhile.
Above ground, this 52,835 acre park is just as awesome as its Swiss cheese basement. The forest is open and clear underneath the massive hardwoods. The dense overhead canopy and abundant wildlife contribute to underbrush control. It's a very well preserved and clean national park brimming with natural beauty and furry creatures.