Adventure Journal – Entry Date: August 2012We have visited Fort Mountain twice this month, so I guess I can make single journal entry for both weekends. Fort mountain's altitude is especially inviting this time of year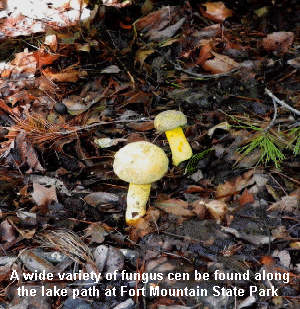 because of the oppressive heat and humidity in the valleys. In the south, we call these the "Dog Days" of summer. Fort Mountain State Park is a great escape from Dog Days.

On each of the two weekends we visited Fort Mountain during the month of August, we took a stroll around the lake. The lake path at Fort Mountain State Park is always beautiful, but each visit offers something different to see, hear, and smell. There always seems to be new flowers blooming, or leaves changing, or, in the case of this past weekend, fungus! As we walked along the path this time, we were watching for deer (and bear), reading the informative plaques that identify many of the species of plant, and photographing the picturesque view of the lake. Then one of the kids noticed a colorful mushroom. Then another, and another. Soon, it was a mushroom quest. We saw dozens of sizes, shapes, and colors of the neat little fungi. It was an unexpected surprise that we talked about well into the evening. (see more fungi photos). Note: When visiting a park, please leave all wildlife and vegetation just as you found it so that others may also enjoy its beauty.

When we returned to the campground, we grilled a bunch of peppers (from our garden),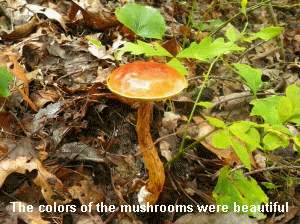 tomatoes, garlic, and onions, then combined them into a wonderfully hot batch of salsa that complimented our evening meal of burritos and tacos. The kids really enjoy spicy food, but there were a lot of cold beverages consumed during that meal.

Fort Mountain State Park has a new naturalist, and we had the opportunity to meet him on the latter August visit. He is a retired high school teacher with a lot of energy and knowledge of the mountain and the immediate area. He hosted an evening by the campfire and supplied s'mores for anyone that attended. He has begun a series of weekend activities like knot-tying and orienteering, scavenger hunts, bear talks, and wagon rides. We are excited that Fort Mountain has funded a naturalist again. It's so important to offer fun and educational activities to the park's visitors, especially the younger generation. We still miss Ranger Ruby, Fort Mountain's previous naturalist.