When visiting Maggie Valley, North Carolina in past years, the Richardson
Tribe has stayed at Stone Bridge RV Park. We had a bad experience there last winter, so we thought we'd try a change of venue. We began researching alternative campgrounds and came across a place called Twinbrook Resort. The website made the place look promising, especially the large RV sites and indoor pool. A friendly phone call to the park sealed the deal (nice folks).
Our primary objective this Christmas break was snow skiing for all the kids.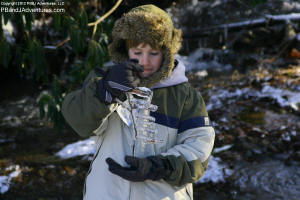 They attended ski school at

Cataloochee Ski Area

last year, and fell in love with it. They had a wonderful ski instructor that had a lot more patience than the little guys are accustomed to. One of the first things about Twinbrook Resort that caught our attention (besides the indoor pool), was the proximity to the ski area and other Maggie Valley attractions. From the camp site, it takes about 10-15 minutes (depending on traffic) to reach Cataloochee Ski Area's parking lot.
When we arrived at Twinbrook, it wasn't exactly what we pictured. The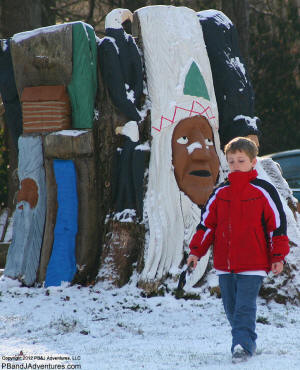 website makes it appear more remote than it really is. In actuality, it's just about a block off the main drag, yet it's RV sites remarkably private. One benefit of being this close to everything is… you're close to everything. We were very glad to have site #5 because the other four sites would have been tough to back into. Additionally, site #5 is very near the indoor pool and playground. All the sites back-up to a small stream. While we were there, they flowed strongly providing a nice ambient sound all night long.
Our first full day was spent at the ski area, and we couldn't have asked for a better day. We once again enrolled the kids in ski school, and once again hit a home run with a most excellent instructor. On Saturday, we drove over the mountain to Gatlinburg. It's a beautiful drive, and it always amazes us how much the weather can change from one side to the other. Once in Gatlinburg, reports began coming in about snow. When it snows in the Smoky Mountains, many secondary roads are closed, so we cut our Gatlinburg visit short to head back to Maggie Valley.
That evening at Twinbrook Resort was awesome. As the snow fell, we built