Peace, quiet, fishing. – More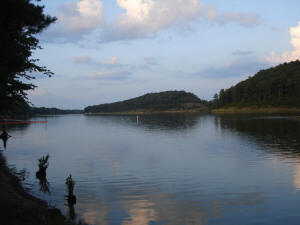 R
ocky Mountain Recreation Area is located off the beaten path in
Northwest
Georgia near Armuchee (pronounced ar-mer-chee).
The 5,000 acre park is the product of a partnership between Oglethorpe Power and the Georgia Department of Natural Resources. Rocky Mountain Recreation Area is a wonderful local resource that is almost free ($5 parking fee) for the public to use. There are two lakes, a beach, a playground, and a beautiful campground with water and electricity.

The campground is filled with tall hardwoods and pines that go right down to
the edge of the water.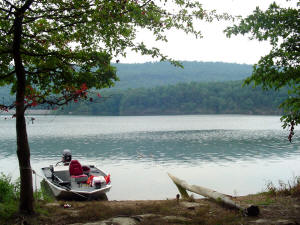 As can be expected lakeside camping sites are not very level (typical for lakeside campsites), but they are large and shady.
Non
-lakeside campsites seem much more level.
One of the best things about Rocky Mountain Recreation Area is the ability to
pull your fishing boat (or canoe or kayak) right up to you campsite
. You have to make sure to secure your watercraft though because water levels fluctuate
based on electricity demand. Water is pumped into a reservoir on top of the mountain during low-demand
times, then released to
generate electricity as the demand increases. It's like a battery.
The fresh lake water provides more than just electricity, it's also