So far off the beaten path, it's not even on the map.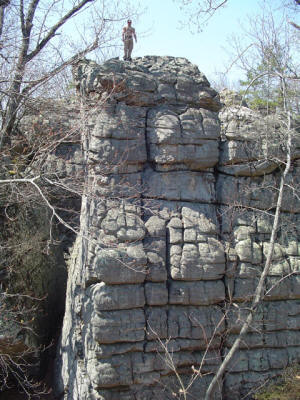 Rock Town is located in the Crockford/Pigeon Mountain Wildlife Management
Area near LaFayette (pronounced luh-fay-ett) in northeast Georgia. Rock Town should not to be confused with nearby "Rock City," a popular tourist attraction near Chattanooga. Nope, Rock Town is just about as non-tourist as you can get, unless you are a rock climbing or spelunking enthusiast. Rock Town is off the beaten path, but it's well worth the extra effort.
The attraction to Rock Town varies based on the visitor. We love Rock Town because of the scenery, the hike, and small (safe) amounts of climbing. For many others, the towering formations present a free-face rock-climbing challenge. Don't worry, there are plenty of relatively easy and safe climbs, but be careful up on the enormous blocks of stone, especially with small children. Additionally, be smart about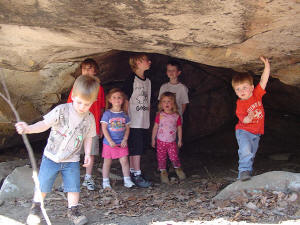 where you put your feet and fingers. There are snakes up on Pigeon Mountain. To me, that's one very good reason to go in cold weather when snakes are hibernating.
In order to enjoy Rock Town's beauty, you have to take a little hike. At two miles (round trip), it's not a long hard walk, but it can take a bit longer than you might expect. Various diversions such as scenic mountain views, local wildlife, and enormous rock formations tend to slow the progress in both directions. Don't worry, just make sure to reserve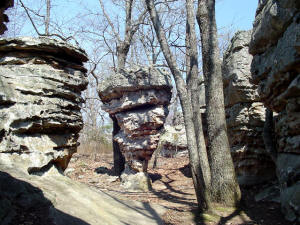 enough daylight to make it back to the parking lot at the trail head.
On a side note, Pigeon Mountain has a secret it keeps hidden deep within, literally. It's a secret that draws people from all over the globe. Like most limestone ridges in this region, Pigeon Mountain is riddled with caves. Pettyjohn's cave provides almost 7 miles of mapped caving. The entrance is located just up the old dirt road from the DNR check-in station at the base of the mountain. Ellison's Cave, also located on/in Pigeon Mountain, features the almost 12 miles of passages and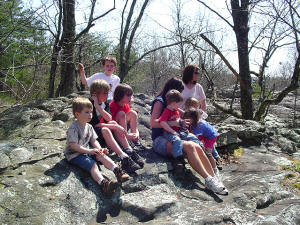 two of the deepest vertical drops in No…