Adventure Journal Entry Date: July 2012 (More)
I was recently presenting to a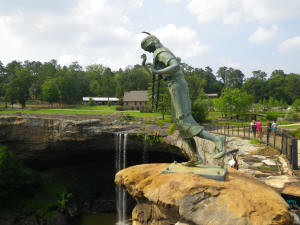 group of Alabama teachers when I asked for suggestions for family destinations in their fine state. Numerous educators suggested Noccalula Falls in Gadsden, so I began researching and making plans immediately. The legend is that a Cherokee chieftain promised the hand of his daughter, Noccalula, to a Creek sub-chief in exchange for peace. The young princess was so distraught, she flung herself off the falls and to her death 90 feet below. We enjoy Native American history and legend, but frankly, it was the rest of the park that really got my attention.

Gadsden is a relatively short drive for us, so it worked out to be a great weekend getaway. We left mid afternoon on a Friday and arrived at the Noccalula Falls campground in plenty of time for the kids to enjoy the pool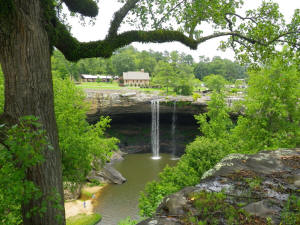 and the walk to the park's playground and falls.
The campsite I selected turned out to be perfectly level, so setup was a breeze. We got a little rain through the night, but no storms. Nothing is more relaxing than a light rain on a camper's roof.
The rain continued until mid-morning Saturday, so we had a slow lazy start for the day. When the skies cleared, we headed-out for Noccalula Falls Park. It's a quarter-mile walk, but easy and extremely scenic. From the campground, we walked along a pathway that winds through the public access area, past the wedding chapel, and over a little arched bridge which crosses the stream feeding the waterfalls. The flow of the water affects the beauty of the falls,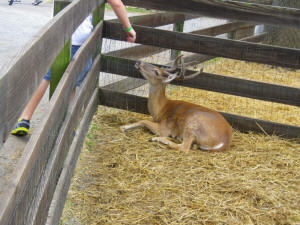 and on this visit there was some water, but nothing spectacular. If you'd like to see it really roaring, watch this video.
Past the falls we could see the scale train and some Teepees.
After paying our admission to the park (which was very reasonable), we boarded the train. It's a small scale train, and the kids loved it. Our first stop was the "petting zoo." We love…