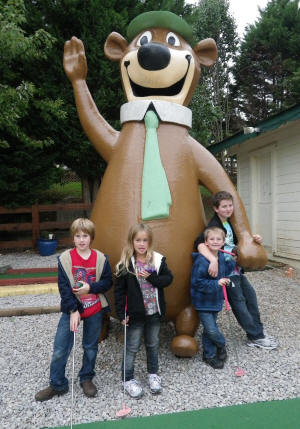 Yogi oversees the minuature golf course.
Never a Dull Moment
Rebecca had a training session to attend in Louisville on this particular week. We decided to head that way a few days early so we could visit Mammoth Cave National Park. I'd traveled through the area before, and I camped at Jellystone Park in Cave City. Frankly, I hadn't planned on staying here again. My image of the park was from the perspective of someone that really loves the natural surroundings and large campsites of state and national parks. Jellystone is all about amusement and fun. In all fairness, Jellystone Park does have some very nice surroundings.
As I researched and planned for this trip, I could find no better alternatives to Yogi's place. Questionable reviews and the lack of good photographs made the selection of another campground a scary proposition. In hind-site, I'm thankful. There might have been a mutiny had we stayed anywhere else.
When we first pulled into the park, the kids immediately began to take note of the amenities. Statues of Yogi and other Jellystone characters suggested fun. And fun it was! I had a pretty big problem finding a site that would easily accommodate Homer II (our camper) and the Jeep's trailer. Most of the sites are very high on one end or the other and/or from side to side. I watched as other campers arrived and began to set-up. Regulars seemed prepared to do some pretty major jacking to level their RV's. I also observed that the best sites are the first to be reserved by those that are familiar with the campground.